Earthquakes
Toyama Prefecture has many active faults. It is estimated that these faults have the potential to cause large earthquakes of up to magnitude 7. Toyama experienced up to shindo 5 on the Japanese intensity scale when the 2007 Noto Earthquake (M6.9) struck, which was the most shaking witnessed in this area in 77 years since the 1930 earthquake off western Ishikawa Prefecture (shindo 5 in Fushiki, Takaoka).

Earthquake Preparation
Of the more than 6,400 lives that were lost in the catastrophic Great Hanshin Earthquake (1995 Kobe Earthquake), over 80% were victims of collapsed buildings, and almost half of the 43,800 people wounded were victims of falling furniture. It is important to be prepared for earthquakes.
Prevent furniture and appliances from falling over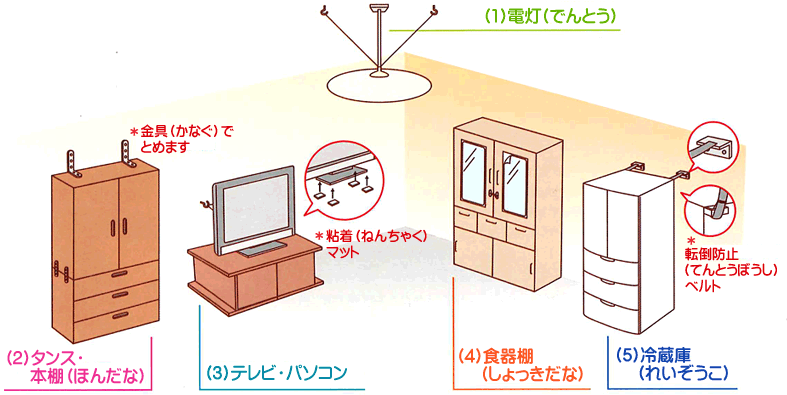 (1) Lights
For hanging lights, use chains and clasps to secure in several places. For fluorescent lights, tape the tubes on both ends with heat-resistant tape.
(2) Cabinets/Dressers/Bookshelves
Use clasps to secure to the wall. Also clasp together parts of furniture that are separated.
*Secure with clasps
(3) TVs/Computers
Monitors can be secured using adhesives or straps.
*Adhesives
(4) Cupboards
Attach fasteners on double door cupboards so that they do not swing open. Use shatterproof sheets on glass surfaces.
(5) Refrigerators
Loop straps through the handles, and attach the other ends to wall studs.
*Security strap
Action Guide
If you are at home: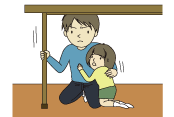 1. Protect yourself by getting under a desk or table, and check the news alerts on TV or on your phone.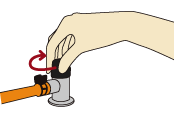 2. When the shaking has subsided, turn off the gas by closing the main valve, and switch off the circuit breaker. If there is a fire, put it out with a fire extinguisher.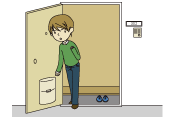 3. Open the door and ensure an exit. Check your surroundings and remain calm.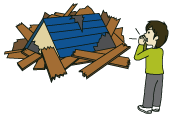 4. Check on your neighbors and provide help if you can.
5. Evacuate on foot wearing comfortable clothes and shoes, and only carrying what is absolutely necessary. (Driving can cause transportation problems, or create obstructions for evacuees or emergency vehicles.)
If you are not at home: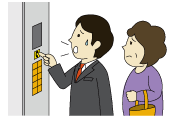 Elevator

If the elevator does not stop automatically, press the buttons for all of the floors and exit at whichever floor it stops. If you are stuck, press the emergency button and use the intercom to communicate.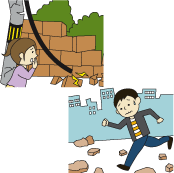 Road/Sidewalk

Resist the urge to stop where you are, and evacuate to a safe area such as an empty lot or park while being careful of falling objects such as window glass and signs. Do not go near concrete block walls or vending machines. Never touch hanging power lines (electric cables).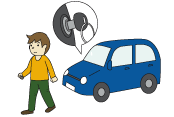 Driving a Car

Slamming the brakes cause accidents. Gradually slow down, stop at the left side of the road, and shut off the engine. If you are leaving the car, keep the car unlocked and leave your key.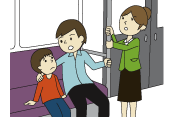 Train/Bus

Hold on tightly to something. Protect your head from falling bags from the baggage rack. Do not hastily exit unnecessarily. Follow instructions from staff.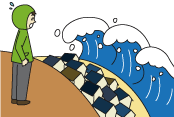 Beach/Coast

Immediately move away from the coast and go to a safe place such as a hill, as there could be incoming tsunami. Do not go near the coast until the tsunami advisory or warning has been lifted.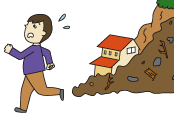 Mountains/Steep Slopes/Rivers

Quickly move away from any place landslides might occur. If there is not enough time, hide under a large tree. Run away from rivers.
(1) Active Faults in Toyama Prefecture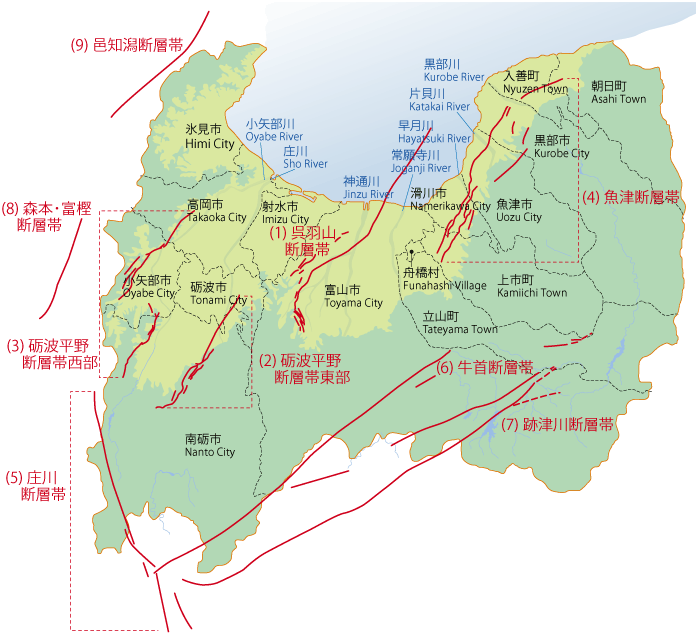 | Name of Active Fault | Earthquake Size | Earthquake Probability (within 30 years) |
| --- | --- | --- |
| (1) Kurehayama Fault Zone | M7.2 | Approximately 0% - 5% |
| (2) Tonami-heiya Fault Zone (Eastern) | M7.0 | 0.04% - 6% |
| (3) Tonami-heiya Fault Zone (Western) | M7.2 | Approximately 0% - 2% Possibly greater |
| (4) Uozu Fault Zone | M7.3 | Over 0.4% |
| (5) Shogawa Fault Zone | M7.9 | Almost 0% |
| (6) Ushikubi Fault Zone | M7.7 | Almost 0% |
| (7) Atotsugawa Fault Zone | M7.9 | Almost 0% |
| (8) Morimoto-Togashi Fault Zone | M7.2 | Approximately 0% - 6% |
| (9) Ochigata Fault Zone | M7.6 | 2% |
(2) Expected Damage
(for Kurehayama Fault Zone earthquake)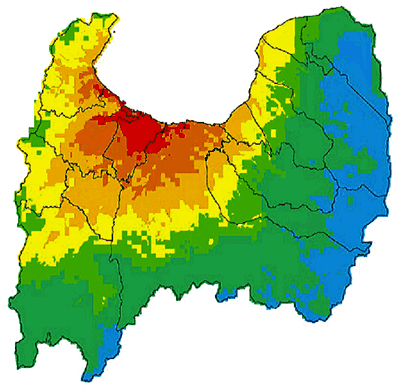 Degree of Shaking

| Intensity | Degree of Shaking |
| --- | --- |
| Shindo 1 | A little shaking is felt |
| Shindo 2 | Hanging lamps swing slightly |
| Shindo 3 | Felt by most people |
| Shindo 4 | Sleeping people are awoken |
| Shindo 5-lower | Hanging lamps swing violently |
| Shindo 5-upper | Objects fall off shelves |
| Shindo 6-lower | Difficult to stand |
| Shindo 6-upper | Impossible to stand |
| Shindo 7 | Even earthquake-resistant residences are damaged |
Predicted Damage
Property Damage
Buildings
Destroyed
90,424
Partially destroyed
273,752
Fire
3,711
Homes with fallen objects
37,930
Concrete block walls, etc.
29,726
Vending machines
3,057
Human Impact
Dead
4,274
Wounded
20,958
Present situation
Increase in earthquake resistant homes
Earthquake resistance
68%
85%
Deaths
4,274
2,107
(-2,167)
It is estimated that the number of deaths could be roughly reduced by half with an increase in the rate of earthquake resistant homes.
Magnitude and Shindo
"Magnitude" refers to the measurement of the size of the earthquake itself, while shindo refers to the degree of shaking in a given location on a scale of 0 to 7. The 1995 Great Hanshin Earthquake was M7.3 and a maximum of shindo 7, while the 2011 Great East Japan Earthquake was M8.4 and also recorded a maximum of shindo 7.
1858 Hietsu Earthquake
In April 1858, a large earthquake of shindo 6 struck the area. The peaks of Otonbiyama and Kotonbiyama collapsed, and the resulting sediment flow caused great damage to the Toyama plains. It is thought that approximately 200 million square meters (160 times the size of Tokyo Dome) of this sediment still remains in the Tateyama Caldera. If this were to all flow out, it would cover all of the Toyama plains in over two meters of soil. Erosion control work (sabo) to prevent such disasters began over 100 years ago, and still continues today.